Cyrilde Pic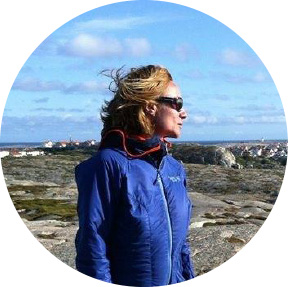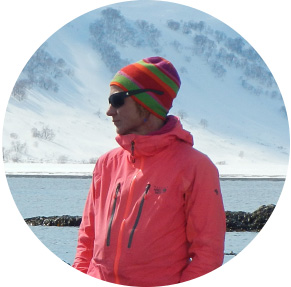 Cyrilde was born in Chamonix. Her father was a mountain guide, and obviously, he transmitted to her a passion for skiing and mountaineering. But you cannot just look at the obvious ! Cyrilde spent her childhood between Chamonix and Brittany where she discovered a new element which she quickly embraced: water.
Surprising as it may be, she began her career as an athlete windsurfing. She spent several years competing at national and international levels.
Water, then air…In 1990, Cyrilde turned 20, and her birthday gift changed her destiny. It was a tandem paraglider flight.
She was then studying history and geography at University, and getting ready for the selective entry examination to the famous French Political Science School in Paris. She let her instincts be guided by that budding love story with air, and changed directions.
Her decision was made : she would fly ! Three years later, she passed the State certificate in Sports instruction (Brevet d'Etat d'Educateur Sportif, BEES 1) and became a paragliding instructor.
For more than 20 years, she has transmitted her passion while in flight, or teaching others to fly.
In 2008 she started speed-riding and in 2009, she got the certificate to teach that sport.
She never has enough. So she went back to competitions, once again with amazing results : she won the French championship in 2010/span>.
A teacher at heart, she knows how to be attentive to her pupils to help them improve at their own pace and to teach them to trust themselves.
Her principle in teaching is to transmit her technical knowledge while instilling in them values of safety and respect of the environment around them.
In the summer as well as in the winter, Cyrilde runs off to the mountains whenever she can. She goes climbing long routes, either on rock or mixed climbing, ski touring, ice climbing or simply hiking.
She lives this passion along with that of speed riding. She has ridden down a number of prestigious slopes : the North Face of the Aiguille du Midi….
Cyrilde is also a globetrotter and an explorer. She's always keen to pack up her skis and her sail and to catch a plane to go and ride the most beautiful mountains in the world (she went on an expedition to Mustagh Ata in 2010, to the Kamchatka peninsula in 2015, and her next project is an expedition in Nepal).
What about the name Mac Fly, all this said ? No, Cyrilde is not a fan of the British pop-rock band, or of the famous character in Back to the Future.
Her friends very naturally gave it to her as they were all enjoying a glass of beer !